We provide various services to support your business. If you want to improve your business, we can recommend our solutions to you for free.
If your company needs technology to digitize documents from paper to digital information. We have experts in OCR (Optical Character Recognition) and NLP (Natural Language Processing) with over 20 years of experience, that make our OCR accuracy of 90% or more in both Thai and English. If you are one of the organizations that still need to rekey or examine a lot of documents. Consult your business with us.
Accounting ERP system embedded with ZTRUS OCR. We have technology to help you read documents up to make journal entry. Just take a photo or scan a document.
Free trial 45 days.
Cancel anytime. No hidden charges.
Document management platform to help business create documents for sales, purchases, withholding tax and comply with Thai tax laws. Easily send documents to  accountant in just one click. Monitor your business through dashboard in real time.
Free trial 45 days.
Cancel anytime. No hidden charges.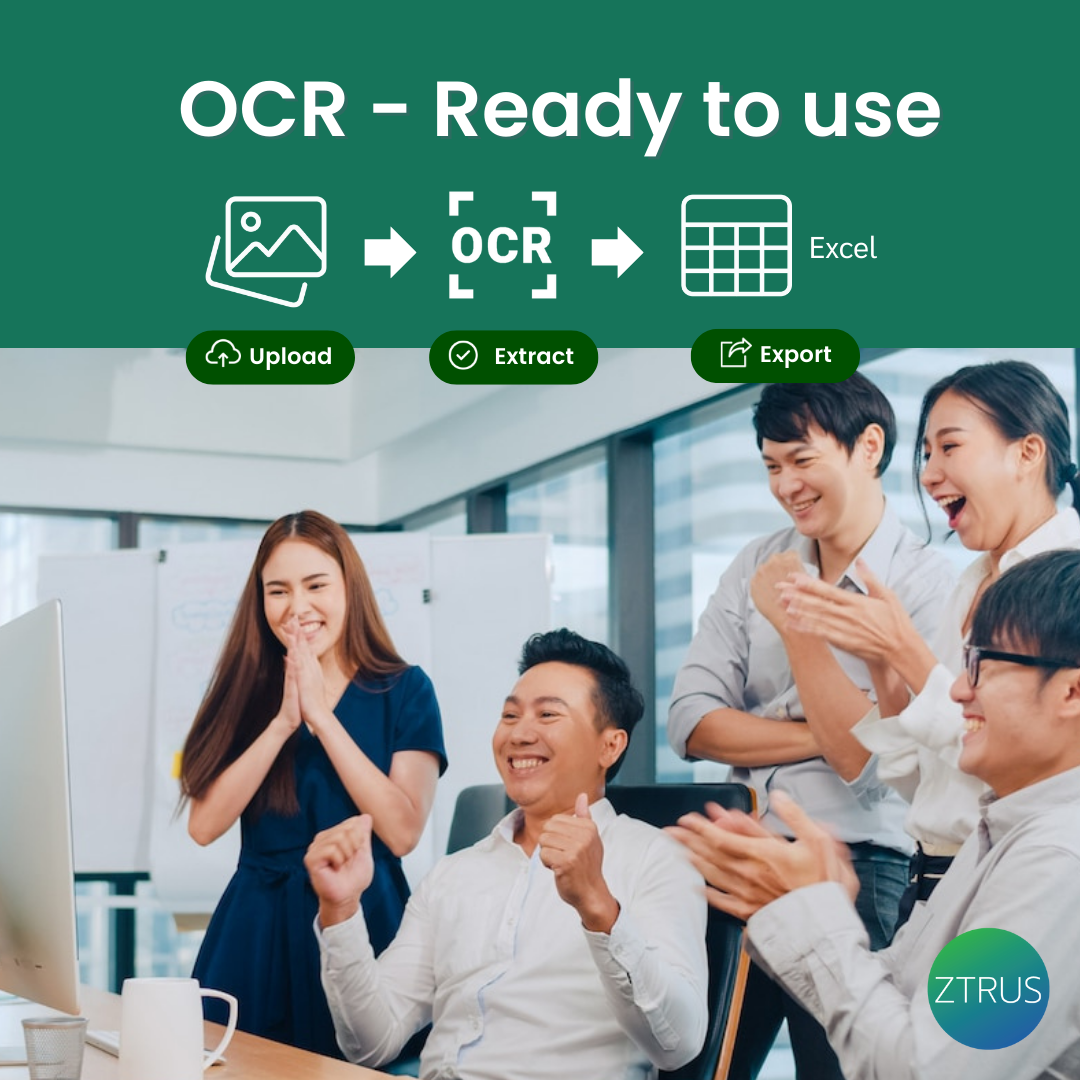 The ZTRUS technology is designed to address challenges in document verification and import, enabling automated processes that can be applied across various workflows. It specializes in accounting-related tasks and brings expertise particularly to accounting processes.
Extracting data from supporting documents for insurance applications, such as national ID cards, civil servant cards, and passports.

Assisting in extracting data from medical expense claims, doctor's certificates, and cross-referencing the information with the system to verify health insurance coverage, resulting in significantly expedited approval processes.
     Extracting data from image/PDF files to connect and store information in digital format.
The data is stored in a system that is easy for information retrieval.

The data can be compiled into Open Data, allowing users to access and manage information from the system more conveniently.
We can create a data form structure that supports position promotions.
Documents with tabular formats.

Documents with compressed sizes.

Sloped/formatted form documents.

Self-created/custom-made documents.

Documents with checkboxes and lines, including cross-checking data from documents with forms, and documents with attached supporting evidence.




Software solution to provide document process automation services to automate record updating and provide changes logging and reporting. We create the foundation for managing people information and policies to improve overall organizational effectiveness and up-to-date information with friendly management to drive greater efficiency. This solution will provide convenience and ease of use for employees while keeping the accuracy and up-to-date HR information.
The capability to extract data from official documents, such as ID cards, passports, and registration books.